PROJECTOR REPAIRING SERVICES IN GURGAON
Do you need service for your projector, contact our recommended Projector repairing service center in Gurugran, and they will help you get you right solution to fix your projector. If you know what model you need repairing, It is helpful for us to give quotation before visiting your place.
We provide complete solutions for the repair and maintenance of all projectors.
What is a Projector?
Before we start, let us know the fundamental meaning of projectors.
A projector is an optical device that displays the active screen of the device connected to it by projecting it over a surface or projector screen.
Therefore, a projector is an appliance that helps you to project an image, video, or display of another gadget onto a surface or screen for better viewing. The projector usually enlarges the image and thus provides a better visual experience for everyone.
Now that you know the definition of projectors, we can move on to the other information you need to know if you want to buy the best projectors in India.
There are many of these products out there, and you can make them your own. Projectors are very useful when you think about them. You can use them at events, meetings, classes, and tutorials and also watch movies, play games, and much more.
There are two common types of projectors:
In the early days of projectors, CRT (cathode ray tube) projectors were commonly used. Today DLP (Digital Light Processing), and LCD (Liquid Crystal Display).
Common Projector faults we repair:
Unistar Electronics is haveing a team of qualified, and professionally trained technicians to perform quality projector repair services. Our people have a very good knowledge in projector repair and all of them have The skills of performing component level services for projectors. Our people can Professionally execute component level services by checking all electronic comp- Onents

1. No Power - Projector not getting on,
2. Remote control does not work 3. Powers off randomly,
4. Lamp stop functioning / damaged,
5. Screen shows No signal massage,
6. Image quality problem – colors / resolution
7. Scrolling or Partial Image on the Screen,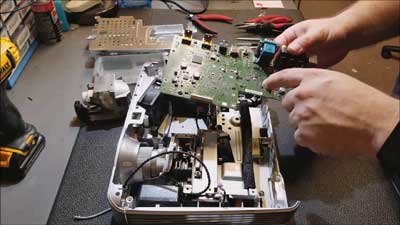 Unistar Electronic has an expert team who will repair your projector as well as gives support for troubleshooting. We provide our service 7 days a week. Whatsoever your problem is, we will sort it out. Our repair experts can fix all brands and model of projector. We are a trusted name in projector repair service provider in Gurgaon and Delhi and can fix all types of faults whether it is a spare part replacement, projector component repair, and regular maintenance of your projector or serving your projector.
We present an entire solution in projector repairing and maintenance in Gurgaon. Our on-call service will help you to have a technician to visit your place to fix all your problems. We have got all the necessary tools, equipments, spare parts and some other facilities which make us different from other companies. We also take on the annual maintenance agreement for projector maintenance in Gurgaon.
Projectors Repair in gurgoan.
Projectors Repair service in ggn.
Projector Repair and service in gurugram.
Projector Repaieservicecentre in gurgoan.