PROJECTOR REPAIR IN GURGAON
Do you need service for your projector, contact our recommended Projector repairing service center in Gurugran, and they will help you get you right solution to fix your projector. If you know what model you need repairing, It is helpful for us to give quotation before visiting your place.
We provide complete solutions for the repair and maintenance of all projectors.
What is a Projector?
Before we start, let us know the fundamental meaning of projectors.
A projector is an optical device that displays the active screen of the device connected to it by projecting it over a surface or projector screen.
Therefore, a projector is an appliance that helps you to project an image, video, or display of another gadget onto a surface or screen for better viewing. The projector usually enlarges the image and thus provides a better visual experience for everyone.
Now that you know the definition of projectors, we can move on to the other information you need to know if you want to buy the best projectors in India.
There are many of these products out there, and you can make them your own. Projectors are very useful when you think about them. You can use them at events, meetings, classes, and tutorials and also watch movies, play games, and much more.
There are two common types of projectors:
In the early days of projectors, CRT (cathode ray tube) projectors were commonly used. Today DLP (Digital Light Processing), and LCD (Liquid Crystal Display).
Common Projector faults we repair:
Unistar Electronics is haveing a team of qualified, and professionally trained technicians to perform quality projector repair services. Our people have a very good knowledge in projector repair and all of them have The skills of performing component level services for projectors. Our people can Professionally execute component level services by checking all electronic comp- Onents

1. No Power - Projector not getting on,
2. Remote control does not work 3. Powers off randomly,
4. Lamp stop functioning / damaged,
5. Screen shows No signal massage,
6. Image quality problem – colors / resolution
7. Scrolling or Partial Image on the Screen,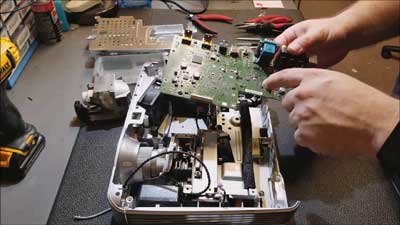 Unistar Electronic has an expert team who will repair your projector as well as gives support for troubleshooting. We provide our service 7 days a week. Whatsoever your problem is, we will sort it out. Our repair experts can fix all brands and model of projector. We are a trusted name in projector repair service provider in Gurgaon and Delhi and can fix all types of faults whether it is a spare part replacement, projector component repair, and regular maintenance of your projector or serving your projector.
3. The Power Light of The Projector is Blinking:
>>On the market today, many make and models of projectors – all with different parts and features. Therefore, it is better to read the owner's manual to determine the meaning of a projector light blinking.
>> Here are some of the most common reasons and solutions to blinking lights on your projector: >> Check Power Light Indicator: If the power light is green or flashing green, the projector is likely on or warming up. If the power light is orange or flashing orange, the projector might be in standby mode or turned off. >> Check Lamp Light Indicator: If the lamp light is flashing Red or Orange, this usually means the lamp light is going to burn out soon or needs to be replaced. >> Check Temperature Light Indicator: If the light is flashing orange or red, this typically means your projector is overheating or in need of cleaning. Be sure to clear any clutter from around the projector and to remove any items that may be blocking its vents.
4. The Image of Projector is Defocused or Discolored
Projector discoloration can occur for a number of reasons. Below are several of the most common reasons for discoloration and how to fix it. Inspect the condition of your VGA cable. If you notice any bent prongs, the VGA cable will need to be replaced. Optimize the display and color settings for the lighting in the classroom. Check if your projector is in need of a lamp replacement. If none of the above suggestions help with the discoloration, the problem could be more serious. Contact a professional projector repair service to inspect the color wheel or polarizing plates.
5. Lamp Of The Projector is Burnt Out
Although lamp life varies from projector to projector, all lamps need to be replaced at some point, making this one of the most common projector issues. Signs of a burnt out lamp include: Inspect the lamp light. If the light is flashing red or orange, you need to replace the lamp. If the projector turns on, but the image doesn't appear, your lamp may be burnt out. If the image being projected is discolored or dim, the lamp may be weaker or burn out soon. If you are facing any of the above issues with your projector or are in need of additional assistance, contact the professionals at Unistar's Projector service center. We specialize in maintenance and repair of school technology, ranging from computers and tablets to projectors and more. Through our projector repair services, we can provide onsite repairs, mail-in repairs, and pickup repairs. We look forward to serving your school's technological needs with unmatched repair turnaround time and superior customer service.
We present an entire solution in projector repairing and maintenance in Gurgaon. Our on-call service will help you to have a technician to visit your place to fix all your problems. We have got all the necessary tools, equipments, spare parts and some other facilities which make us different from other companies. We also take on the annual maintenance agreement for projector maintenance in Gurgaon.
Projectors Repair in gurgoan | Projectors Repair service in Gurgaon | Projector Repair and service in Gurugram | #Projector Repair service centre in Gurgoan | #Projector Repair Service #Projector Repair near me | #Benq-Projector Repair Service | #Canon-Projector Repair Service
#Christie-Projector Repair Services #Dell-Projector Repair Services #Davis - Projector Repair Service #EPSON-Projector Repair Service #Educomp-Projector Repair Services #Hitachi-Projector Repair Service
#Infocus - Projector Repair Service #Kindermann - Projector Repair Service #Kenwood - Projector Repair Services #Optoma - Projector Repair Service #LG-Projector Repair Services
#Mitsubishi - Projector Repair Service #NEC - Projector Repair Services #Philips - Projector Repair Services #Panasonic - Projector Repair Services
#Proxima - Projector Repair Services #Plus - Projector Repair Services #Ricoh - Projector Repair Services
#Samsung - Projector Repair Services #Sony - Projector Repair Services | #Screen Excellence - Projector Repair Services | #Sharp - Projector Repair Services | #Toshiba - Projector Repair Services | #Viewsonic - Projector Repair Services | #Yamaha - Projector Repair Services #3M - Projector Repair Services
KNOW HOW UNISTAR WORK?
➤ Call us or Register your Enquiry for Led Tv Repairing.
Get Call from our Customer Support team Within 10 Minutes,
➤ Our Technician visit in 90 Minutes.
➤ Our Technician will call before visit your place.
➤ No Advance payment to Technician & inform us if they ask.
➤ Only make the payment once the completed.
➤ We are specialist in Led television Repair, Service & Installation.
WHY CHOOSE UNISTAR ELECTRONICS?
➤ Free estimate over the phone (If possible), ➤ Experienced Technical Team.
➤ Home service for Appliances Repairing Service,
➤ Expertise in Plasma, Lcd, Led Tv Repairing.
➤ Pickup and Installation FREE (If Requires), ➤ 90 Days Warranty on all Work done.
➤ Also provide Services for Microwave, Washing machine, Fridge, etc.
➤ Get Solution in minimum time at our place, ➤ We always keep most of the essential parts in stock.
➤ Get Screen Panel Repair, ➤ Broken Screen Replacement.
➤ Quality work-manship, ➤ Expertise at chip-level repairing
➤ Competitive price, ➤ Faithfull & Friendly Technicians.
HAVE AN EXPERIENCE WITH UNISTAR ELECTRONICS
For Quick, Reliable, Cost-saving, Timely Service for repair, service and installation of all brand TV Repair, LCD TV, Plasma TV, Microwave oven repair, Washing machine service, Refrigerator repairing service | Air conditioner repair service, installation in Gurgaon | Delhi Ncr. Get chip-level Homne Appliances | Lcd, Led Television Repair service in Gurgaon | Delhi NCR.
No need to take a risk of trouble, time & money with no-name repairers or service providers who sell their quarries to other technicians.
So, if you need any repairing service for your Home Appliances products. To Avail, immediate service Call us at: +91- 99 71 875 888 | +91 88 26 51 61 41. No Matter, Which Brand You Have and From Where You Purchased It. The Appliances & Tv Service center nearby.
Our motto is providing high-quality services with 100% satisfaction at your doorstep..
Get The Right Solution For Your Home Appliances Repair | Tv Repair At The Best Price!For More Details Call Now on +91-9971 875888



Click to Call Now