LCD Tv Repair Service Center In Delhi
LCD TVs are one of the most preferred televisions from last some years because of good picture quality, light weight, requires less space, slim in size also the prices are nominal as per the new technology. On the basis of new technology LCD TVs are consistently good in quality. LCD televisions are more sensitive than other electronic gadgets it gives us some issues if we clean it with access water or some chemical. We also have to protect it from power surges, heat and moisture. In some cases there may be some technical reasons.
If you are facing any issue with your LCD TV, do call us at the above customer care phone number. We are just a call away, UNISTAR ELECTRONICS is running a Multi-brand LCD Tv Service center in New Delhi. We provide doorstep services for LCD Tv Repair in Dwarka, Vasant kunj, Vasant vehar, South Delhi, New Delhi, Delhi etc. We insure you for the same performance that you are getting with the new one.Lcd tv power supply repair in Delhi,Lcd Tv Service provider in Delhi .
LCD TV REPAIR SERVICE CENTER IN DELHI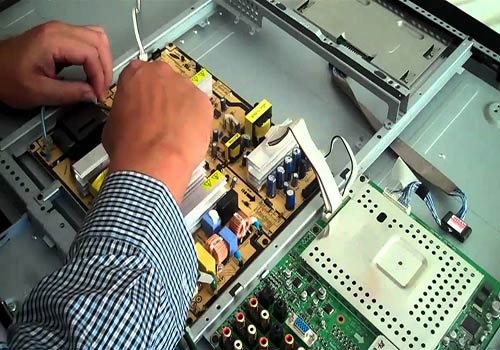 ⚫ Normally people think that LCD repair is very costly, but not anymore. The experts at Unistar Electronics (The LCD TV service center) are capable in solving all the issues you are facing with your LCD TELEVISION. Our service charges are very low. We will give you in home repair services for repairing of any LCD TV in any condition, we will give you the best service for LCD TV Repair in Delhi NCR.
Don't worry if you are having any problem with your lcd tv such as :- damage or broken pannel screen,no picture,distorted image,sound problem, high brightness or dark picture problem or lcd tv is not responding or any other problem you are faceing with your LCD TV. Do call us at :- 9971875888.
⚫ Experts at UNISTAR ELECTRONICS can easily repair LCD TVs of all major brands like :- Samsung, Hitachi, VU, Croma, Videocon, Sansuai, Akai, Philips, Sony, Panasonic, Toshiba, LG, Sanyo, Onida,Benq and Sharp and so on.
We are proude in our team work for rectifying all the issues of the clients who shown therefaith on us. Be seure that we use only orignal part. Lcd tv repair centre in delhi.
⚫ At UNISTAR ELECTRONICS - The LCD Service Center with skilled technicals will give in home service for Lcd tv repair in Delhi Ncr. We also do installation of lcd tv in Dwarka|new delhi| south Delhi| Delhi. WE provide warrenty for the prolem we solved and changed parts while repairing LCD TV. So if you are faceing problem with your LCD TV you call us and get best services from us.
We are just a call away for The best doorstep services for repairing all brand LCD TV in Delhi ( Vasant kunj, Vasant vehar, Munirka, Munirka enclave R.K puram, Greater Kailash, East of kailash, Kailash colony, Green park, Chitrangen park, Kalkaji, saket, Sanik farms, South extention, New friends colony, Moti Bagh, Lcd tv repair in Dwarka, Chankyapuri, sarojni nagar, kalkaji,lajpat nagar, South extention,Westend,Greepark and so on. Flat screen tv repair and service in delhi.
We guarantee for job done, parts with same configuration and reasonable price. Do call us if you need any service for your LCD Television repair. We try to repair and re-solve problems at your place. If require our staff will collect the Lcd Tv, we repair it and re-install it without any extea charges.
Get The Best Lcd Tv repair home service by the experts from Lcd Tv service center near you. Our thinking is to save your unnecessary costs, give you full satisfaction, a happy and lasting experience.
Looking for Samsung Lcd Tv Service center to get Samsung Lcd Tv Repair near in Delhi?
Searching for Sony Lcd Tv Service center for Sony Lcd Tv Repair, near, in Delhi
Get Lg Service center customer care phone number for Lg Lcd Tv Repair, in Delhi