LED TV SERVICE CENTER, CUSTOMER SUPPORT IN SOUTH Hauz Khas, Delhi FOR LED TV REPAIR IN Hauz Khas, Delhi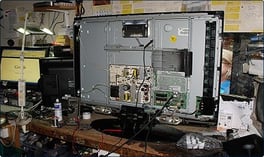 LED TV REPAIR CUSTOMER SUPPORT PHONE NO. - 8826516141
When you see you're LED you feel, The Swift movement of breeze, The Thunder, and the Cloud. You see, A warrior in dusty Armor, An Elegant Ballerina, The Chimes of bells and Roar of King. All for you- and you for All.

LED TV is Cutting Edge Technologies providing the best user experience out of the box. LED TV is very Reliable Technology but also fragile in nature, it can undergo minute to severe damage due to various Anomalies. And a malfunction LED TV is worst than no LED TV at all. We Unistar Electronics provide in-home service for Led TV repairing in Hauz Khas, Delhi. The Led Tv service center that provides the best-led repair services?
In today's scenario the cost of customer is increased due to companies who hired engineers and take commission, this results increased the burden of cost to the customers but in the case of Unistar electronics we have own professional technician team with years of experience and we believe in repairs Led Tv chip level first and take change the Board last option which results in very affordable cost to the clients.

We are committed to giving you the best hassle-free services that's why after finishing the repairing work we put the Television under observation to make sure that it will work same as New one. We guarantee you that it will give you the same picture and sound quality as it was before, and will perform the same as new.
The technicians at Unistar Electronics are specialists in Led Tv repairs. We are The all Brand Led Tv repair service provider who provides services for Led Tv repairing of any brand in any condition, can provide doorstep service for LED TV Repair in Hauz Khas, Delhi. Our Skill Set includes problems like damage screens, image problem, dead pixels, audio issues, brightness problem and no power, Vertical lines on screen or any other problem you are facing with your Led Television. Normally We can easily repair LED TVs in the desired amount of time.
Unistar Electronics – The Led Tv repair center is known for its quality of work and honest pricing, as a mark of trust we provide the warranty of our Led Tv repair services and changed parts. We also provide Led Tv installation and Re-installation of Led Television in Hauz Khas, Delhi. The technician tries to repair Led and solve problems at your place. Get Led tv repair service in Hauz Khas, Delhi, Fast Led Tv repairing service provider near you Hauz Khas, Delhi.
If required we will collect the Led Tv, we repair it and re-install the Led Tv without any extra charges.
One of The Most Recommended Led Service center in New Hauz Khas, Delhi for Led Tv repair in Hauz Khas, Delhi. Get the best-Led tv repair service at your place in Hauz Khas, Delhi from Led Tv repair center in Hauz Khas, Delhi. The One Led Tv Repair shop in South Hauz Khas, Delhi area in Hauz Khas, Delhi.